Terrorism Research in a Polarized World
15th Annual International Conference
Many thanks to ISCTE - University Institute of Lisbon (Portugal) for hosting the 2023 annual international conference on the 20th and 21st of July. We had nearly 100 participants from some 20 countries including delegates from North America (US and Canada), from the UK, Australia, New Zealand, Belgium, Germany, The Netherlands, from Scandinavia (Norway and Sweden), Colombia, Israel, Spain, Portugal, Switzerland, Malaysia and Austria.

Dr Daniel Pinéu and Sílvia Ramos were keynote speakers at this year's annual international conference.
Daniel is a Lecturer and Tutor at Amsterdam University College, where he teaches the courses Violence & Conflict, International Crimes, and International Relations in Theory & Practice. Previously he was an assistant professor at the University of Coimbra (Portugal). He holds a Master's degree in International Politics from Aberystwyth University (UK). He earned his PhD in Critical Security Studies, also from Aberystwyth, with a thesis on the reform of police forces as a tool of US foreign policy in the context of post-conflict state building. In 2006, he was a Research Fellow at the Center for Global Studies, George Mason University, in Washington D.C. Daniel has lectured at Hildesheim University (2009-2010), and at the Institute of Political Studies at Philipps University, in Marburg (2010-2012), both in Germany. He also lectured, as Guest Foreign Faculty, at Quaid-i-Azam University in Islamabad, Pakistan (2012-2013). His research interests focus on international security (with a particular focus on terrorism and political violence, and the interplay between security and technology), foreign policy analysis, and global political sociology (issues of global governmentality, the globalization of policing and the interface of religion and politics).
Sílvia is a senior detective inspector at the Judiciary Police (PJ), serving for 17 years at its National Counter Terrorism Unit (UNCT). PJ-UNCT is the main law enforcement agency in Portugal responsible for the prevention and investigation of terrorism, violent extremism and any other criminal offences involving national security. Highly educated at the University of Coimbra and its Faculty of Law, Sílvia has acquired extensive experience, for over 15 years, as a Portuguese delegate – currently, during the ongoing Swedish Presidency as head of the national delegation – at the Terrorism Working Party (TWP) at the EU Council in Brussels. Alongside the activities of the EU in preventing and countering radicalization, recruitment and ideological extremism, Sílvia gained considerable background and expertise, working with the Radicalisation Awareness Network (RAN) and its Centre of Excellence – launched by the European Commission in September 2011 - both through the participation in policy-making meetings and training activities. Additionally, she was a Portuguese delegate at the EU Internet Forum's Civil Society Empowerment Programme (CSEP), to encourage online campaigns on countering extremist propaganda. Sílvia is nowadays engaged in other EU working groups regarding the impact of terrorism on victims' rights, in particularly victims of terrorism and hate crimes, in a joint and multidisciplinary framework bringing together civil society partners, law enforcement agencies and judiciary authorities.
Morgan Hickman, a MA student at Queen's University Belfast (Northern Ireland), won the Best Student Paper Prize at the Society for Terrorism Research's 15th Annual International Conference held at ISCTE - University Institute of Lisbon (Portugal) with his paper entitled 'Protagonists of Terror: The Role of Ludology and Narrative in Conceptualising Extremist Violence'.
The Best Student Paper Prize promotes the work of postgraduate students throughout the world, in all disciplines, in the field of terrorism research. Morgan's paper will be published in STR's peer reviewed journal Behavioral Sciences of Terrorism and Political Aggression in 2024.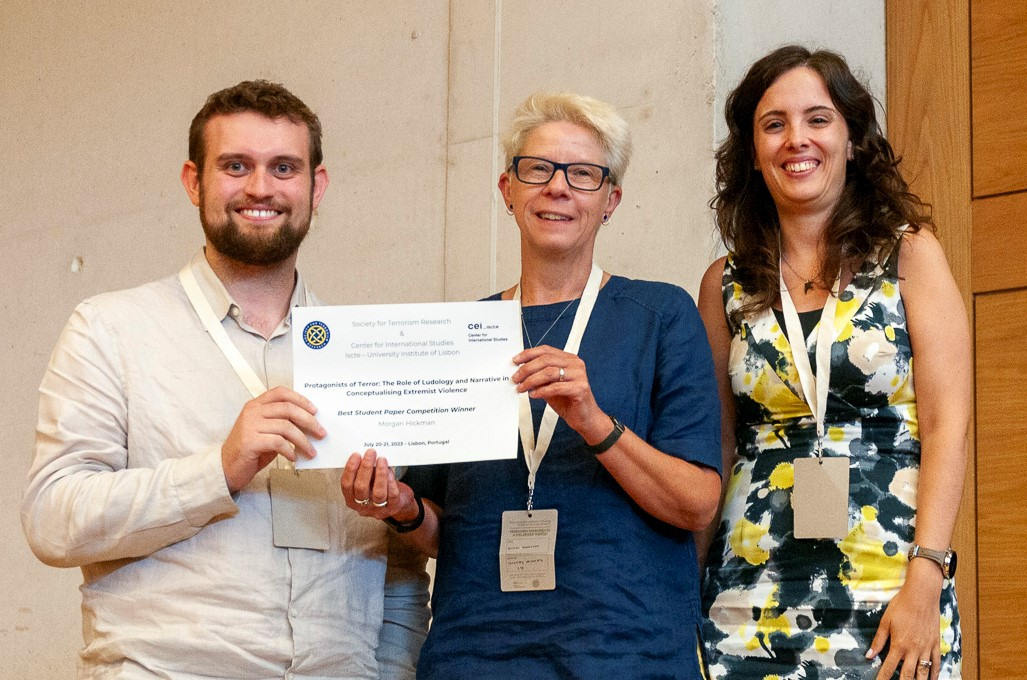 Morgan pictured with STR President, Professor Rachel Monaghan and local organiser Dr Raquel da Silva, ISCTE-University Institute of Lisbon.
Registration is now closed.
Conference rates were as follows:
Early bird rate €180* (No longer available)

Standard rate €230* (No longer available)

MA/PhD students €120 (No longer available)

*includes refreshments (e.g. tea/coffee and lunches) and STR membership for 2024.
Student rate includes refreshments only.

Paper, Panel and Poster Proposals: Friday April 14th 2023
Notification of Acceptance: Monday April 24th 2023
Early Bird Registration Closes: Wednesday May 31st 2023
Registration Deadline: Saturday July 1st 2023 (midnight GMT)
Student Paper Contest Full Submission Deadline: Saturday July 15th 2023

The organising committee wishes to promote the work of graduate students (MA/MSc/PhD) in the area of terrorism research. All paper presentations submitted by graduate students will therefore be eligible for the award of Best Student Paper. The winner will have the written paper published in the peer- reviewed journal Behavioral Sciences of Terrorism and Political Aggression. A committee comprising of the STR Governing Board members, editors of the journal, and selected specialists will make the award decision.
The author(s) must initially submit an abstract by the general submission date of April 24th 2023. At the time of abstract submission, they must indicate that they wish their paper to be considered for the Student Paper Contest. It is only after their abstract is accepted that competition entrants should send a full paper to the conference organisers. All those papers eligible for consideration must be submitted by July 15th 2023 to conferencestr2023@iscte-iul.pt

The paper must comply with the author guidelines for the journal. For details visit https://www.tandfonline.com/ac...
Eligibility
To be eligible for the student paper contest the primary author's presentation of the paper at the Conference is required. The primary author should be a current graduate student studying through a third level institution.
Alternatively, they must have successfully completed their graduate studies since January 1st 2023.
Getting to ISCTE:
By subway (metro)
Take the subway to the Entrecampos station stop and get off
Then walk about 150m in the direction of the Entrecampos roundabout
At the Entrecampos roundabout turn left on to the Forças Armadas avenue and walk some 150m - ISCTE will be on your right at the top of the avenue.
By bus (carris)
Take either the 701 or 754 bus
Get off at the Forças Armadas avenue stop at the top of the avenue
The ISCTE entrance will be 50m down on the right
By train
Take the train to the Entrecampos station stop on República avenue and get off
Then walk about 250m in the direction of the Entrecampos roundabout
At the Entrecampos roundabout turn left on to the Forças Armadas avenue and walk some 150m - ISCTE will be on your right at the top of the avenue.
There are a number of accommodation options in Lisbon (Lisboa) which are close to the conference venue. Please note, this list of nearby hotels is for information only and we do not endorse or recommend any specific hotels, nor do we have a conference rate with any of the them:
Conference Information
Location

Iscte - University Institute of Lisbon, Portugal

Date

20 Jul - 21 Jul, 2023